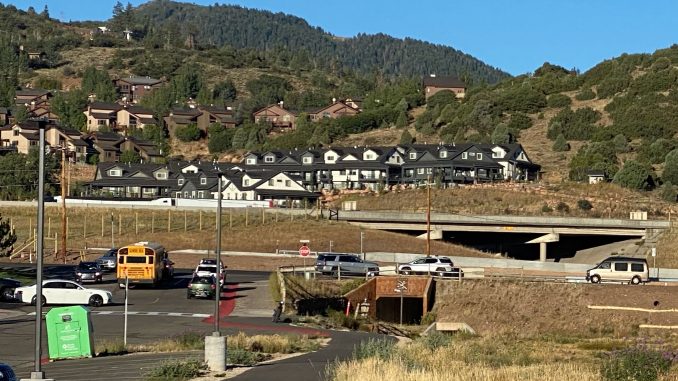 It's official. The Park City area will have the most efficient traffic pattern of any small-mountain-resort-tourist-town in America. Today, Summit County Public Works Director Derrick Dinkle announced that Summit County would be installing a roundabout at the entry of the Jeremy Ranch Elementary school.
In an exclusive interview with Park City Weekly, Mr. Dinkle said, "I was driving by on I-80 one day and saw a lot of cars by the school at 8 AM. So, naturally, I decided we are installing a round-about in front of the school to help people."
Currently the entrance to Jeremy Ranch is serviced by a single stop sign, along Rasmussen Road. However, critics of the current situation have argued that sometimes it can take almost a minute to get out of the school.
Parent, Rachel Charles, who moved here on September 1 of 2020 argues that she cannot afford to wait that extra minute to get out of the parking lot. "Park City Schools are absurd. The way we did it back in Chicago is so much better. I'd send my nanny to drop off the children and I didn't have t wait at all. But now, in Park City, I have to wait in the Parking Lot — sometimes for more than a minute. Do you know what that is going to do to my morning workout?"
Mr. Dinkle said due to overwhelming pressure they were planning on upgrading the intersection to a mutli-lane roundabout, similar to the one down the street at the intersection with I-80. "I don't know why we wouldn't go with more lanes in a roundabout, " Mr. Dinkle said. "That way we can get twice the number of people into the school parking lot at three times the cost. It's a win-win for our parents and contractors."
The $20 million project is slated to start in late September and conclude in in late May. Parents, please note that the school will be inaccessible during that time and alternate arrangements should be made.