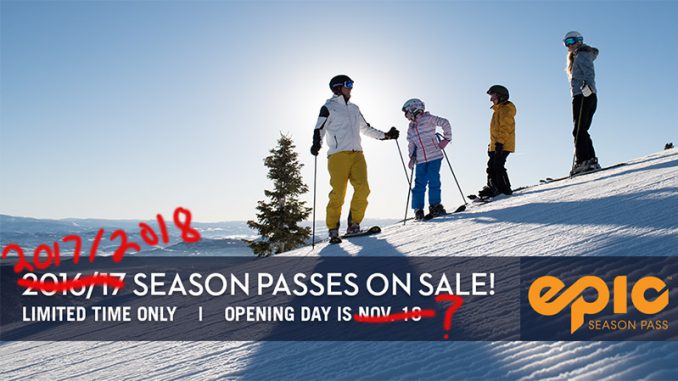 Well, that was one of the shorter ski seasons on record.
On Friday, Vail Resorts announced they were closing for the Winter 2016-2017 season. Chief Operating Officer Bill Rock said, "It's been a fantastic winter here at Park City. We've had absolutely no complaints. Lift lines have been short and everything has been running like clockwork." This runs in sharp-contrast to the 2015-2016 opening where visitors complained of long lift lines due to an alleged shortage of workers.
Vail CEO, Rob Katz told Park City Weekly, "This has really been a model year for us financially. Our employee expenses are way down but our revenues have been outstanding." Katz said most of that was due to Epic Pass sales. "Every year, we've push our customers to buy their Epic Pass earlier. It's a good value for our customers, and helps insulate us against years when the snowfall isn't as good."
That lack of snowfall seems to have dictated Park City's early closing this year. Bill Rock said the resort had tried to make snow a few times but it "just wouldn't last." With temperatures in the 60's forecasted through the end of November and the long range outlook being even warmer, most residents seem to understand.
Park City native Julie Ann Morehouse said, "I'm a little disappointed. It would have been nice to be able to ski at least once but that's not really Vail's fault." Morehouse said she would be an Epic Pass customer again next year. "Next year, I'll probably even buy earlier. It's just so cheap and it really makes me an elite part of the community."
Not everyone shares Morehouse's optimism. Park City resident Joe Jacknause said, "I knew this would happen if Vail came here. First they steal our name and now they are stealing our ski season. I completely blame them for the lack of snow."
Vail's Bill Rock concluded, "It would have been nice to be open for a while longer but now we can look forward to making this the most epic summer season ever." Park City Mountain resumes its summer season on May 24.