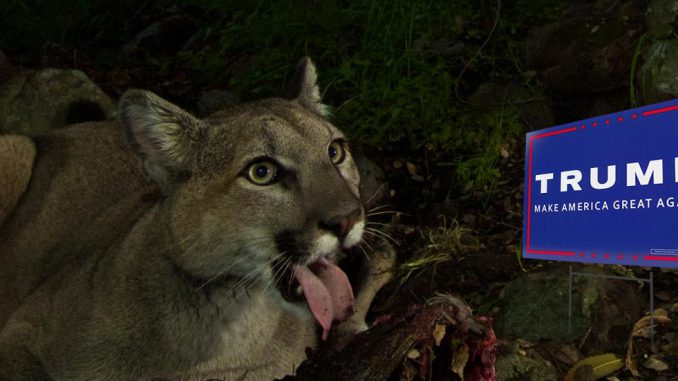 During each election cycle, people running for office seem to become animals. However, this year in Summit County Utah, it appears the animals are getting their revenge.
A mountain lion in the suburb of Jeremy Ranch appears to be targeting Donald Trump signs. Summit County Sheriff, Justin Martinez said, "our dispatch received a call about a mountain lion eating political signs. When we arrived, of all 15 election signs, only one had a huge bite out if it. It was a sign for Donald Trump." Martinez said that wild animal encounters were typically under the jurisdiction of the Utah Division of Wildlife Services. However, this was such a strange case, his office was going to continue to investigate the issue.
Park City Weekly was able to track down Ellie Gorgham, who first reported the issue to the Sheriff. Gorgham said, "It was about 5:30 AM and I was filling my gas tank at the Jeremy Store. I heard a terrible sound from behind the bushes and went to see what it was. There I saw a mountain lion feasting on a Donald Trump sign. I think it said Make America something again." When Gorgham was asked whether other political signs, such as those for Doug Clyde or Colin DeFord, were touched, she said no. The mountain lion seemed intent on destroying Trump."
The Park City Police Department has had no similar incidents and Sheriff Martinez has said he has had no other reports of sign vandalization by human or beast.
As of now, the Sheriff's Department is treating this as an open case. If you have additional information about this heinous crime, please contact the Summit County Sheriff's Office at 435.615.3600.