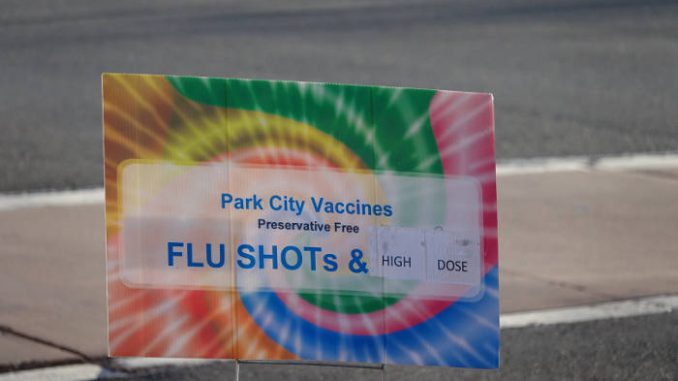 For many years Utahns have been concerned with vaccines and their potential negative impacts on children. Critics of vaccines, often called Anti-Vaxxers, cite studies proving that vaccines cause autism, destroy children's immune systems, and cause excessive weight gain in children during their beauty-pageant years. Celebrities such as Jenna Elfman, a regular at the Sundance Film Festival, has argued that vaccines infringe on parents' rights to control their children.
A local company is aiming to change all of that. Park City Vaccines has taken notice of the anti-vaxxer movement and has developed a solution. President and CEO of the company, Marshall Applewhite says, "we wanted to provide a vaccine that is both preservative free and high dose. We want parents to be confident that we have both a safe and effective solution to preventing their children from getting sick. By combining trillions of dead influenza cells with a b-vitamin complex, we think we have really achieved something. We like to tell customers its even better than organic. It's post organic."
Jenny Smalls, a customer of Park City Vaccine explained why she was taking her 6 children to get vaccinated at the local shop. "I really wanted something that was all natural and post organic. Marshall's vaccine has been proven to be better than organic vaccines on the market and I just feel safer with that. In addition, it's high dose, with 10 times the amount of cells needed to prevent the flu. I just feel if we are going to do it, why not do it to the extreme."
Park City Vaccine has seen so much success in its first month, that it is planning on opening a location on Main Street. Applewhite said of the success, "This has just exceeded all my expectations. I knew we had a better product than was being provided at the hospital or the health department, but I'm just glad people noticed." When asked about the plans for the future Applewhite commented, "The sky is the limit. Our next product will be an anti-flu drink you can get at Fresh Market or Smiths. Because our vaccine is already infused with B vitamins, it makes sense to make an energy drink out of it. If you are feeling a little sick, just crack a few cans of our new drink called VAX. Just like our vaccine, it is post organic and is guaranteed to alter your sickness level. There are trillions of flu cells in there."
Park City Vaccine's products are available at all reputable and non-reputable locations across the Basin.
Note: In case you didn't get it, this site is all satire. It's not real. Public figure names may be used but their quotes are not real. Use of other names similar to actual people is coincidence. See FAQ.