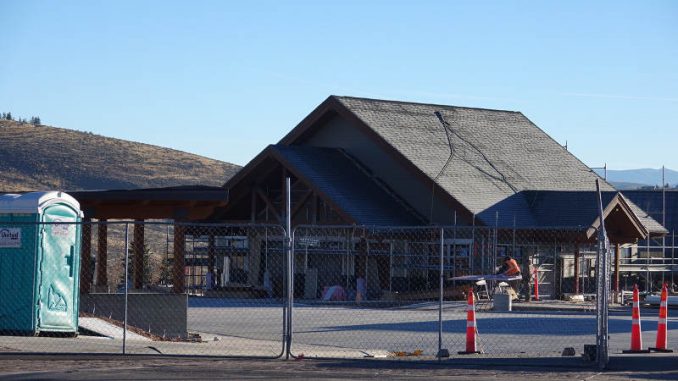 While Park City and the Snyderville Basin have witnessed exceptional growth during the past five years, one thing that has been missing is an equivalent growth in the homeless population. That appears about to change.
During the past few months, a parcel of open space behind the Richens Library building has been transformed. Where once there was tall grass and sage brush growing, now sits what some are calling the future of Park City — the area's first homeless shelter. County Manager Tom Fisher calls this a shining beacon for the future. Fisher said, "Some people initially wanted that parcel to house a transit center, but I think we've found a better use." Fisher said that most cities of significant size have some sort of homeless population but that population was generally missing in and around Park City. "Sure, we have some families begging for money outside of Smith's but our sidewalks and most corners haven't attracted pan handlers. However, once this new shelter is complete, we think we can attract a significant share of Salt Lake City's Homeless population."  Fisher says that the problem is that Park City is cold in the winter. "Where are they supposed to go when the snow is falling?," Fisher asks.
County Council Member Chris Robinson agrees. "If we have a warm spot where the homeless can stay at night and operate from, it will benefit everyone," Robinson said. Robinson added, "They also have the benefit of Park City's free bus system. They will easily be able to move between parts of town. Maybe they congregate around Michael's in Kimball Junction on Saturday morning when mothers and daughters frequent the area but move down to Main Street during the evening where people are spending hundreds of dollars on dinner. What we are really helping them do is optimize their income, so they feel comfortable here."
Robinson was even more excited about the future. "What we are really trying to accomplish through various initiatives, including the upcoming sales tax increase, is get the free buses up into the neighborhoods. If the homeless aren't constrained to the urban areas of Park City and the Basin, and can ride buses into areas like the Colony and Glenwild, we think their future is really limitless. Why beg for money or do meth at Arby's when you can do it across from Michael Jordan's house?"
Local resident Sally Summers said she wasn't aware of the initiative but was fully supportive. "Each Thanksgiving I take my family down to a homeless shelter in Salt Lake to serve food to the homeless. Unfortunately, if we aren't there by 11AM, they tell us they have enough help. It's frankly, a little annoying. Hopefully this one will have an app where we can reserve our spot." When asked about that, Fisher said they hadn't considered that, but it sounded like something to consider.
The new homeless shelter will be open 24 hours a day and 365 days a year. The shelter will feature WIFI throughout the facility and a coffee bar. Seat pillows will be removable, so they can be placed on the floor for sleeping purposes. Buses will run from facility between 6AM and 2AM. Artwork will be provided through the RAP tax and a grant from the Chamber of Commerce and Vail Resorts. The shelter is scheduled to open in time for Sundance.
Fisher concluded, "While there is a lot happening in and around Summit County, I just can't wait to see what happens with this new development."
Note: In case you didn't get it, this site is all satire. It's not real. Public figure names may be used but their quotes are not real. Use of other names similar to actual people is coincidence. See FAQ.