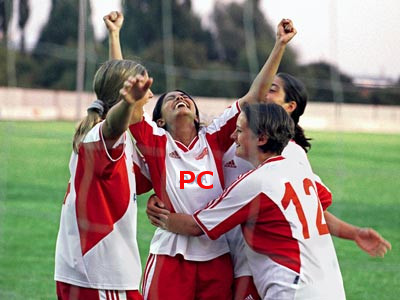 A group of Park City seventh graders has taken the city by storm.  Now their success is spreading east.
Over the past two weeks, this precocious group of five Ecker Hill middle school students has led the most successful drive the city has ever seen for donations of soccer equipment and uniforms. According to student Miley Mills, their goal is to provide much needed soccer equipment and uniforms to children in West Valley and Africa. "These kids they don't have anything or any hope. They don't have Macbooks in their schools. Their parents don't give them cars when they turn 15. They won't be going to Stanford, like us. The least we can do is try and give them some happiness with our used stuff," commented Mills.
So far the group has managed to find lots of "stuff." The group has filled five shipping containers, with plans for filling ten more. Those containers will be headed down the mountain to West Valley and the Sudan area of Northern Africa.
This week, their success was noticed in Bentonville, Arkansas, where national retailer Walmart has stood up and taken notice. Walmart Mountain West Regional Sales Director Ben Johnson said, "Sporting goods sales in our Park City store have gone through the roof…we've had so much demand for soccer balls we can't keep up." According Mr Johnson, Walmart now is flying in extra soccer balls directly from warehouses in China to meet Park City's demand. "We really can't explain the increased demand," said Shelly Grimes, Walmart's Park City Assistant Manager.
However Live PC Give PC spokesperson, James Garfield, who is familiar with donations in Park City, had a simple explanation. "It's called 'Afflu-guilt'," he said. "Every year during Live PC Give PC, we see it. About half our donations come from people who are guilty about how affluent they are. They feel bad about their 5,500 square foot house and their Range Rover. By giving a $20 donation, they feel better about themselves." Mr Garfield says something similar is happening here. "Frankly, how many used soccer balls and uniforms are there in Park City? So, Parkites are flooding to Walmart to buy soccer balls, nets, goalie gloves — really anything that says soccer on it."  It appears those actions are leading to great success at Walmart. Local Store Manager Jim Shields says the company is seeing such success that they will likely be expanding to better serve the community's needs. "We might even see if there is some available space in that Treasure Hill development," said Mr. Shields.
Walmart isn't the only one excited by the students' efforts. Park City Chamber of Commerce's Bill Malone commented, "We couldn't be more excited about these girls' efforts. With all these Park City soccer uniforms going to Sudan, we think it will really open up Africa to the Park City market. Imagine that you live in Sudan and see all these uniforms that say Park City on them. Where do you think they are going to vacation from that point forward? This really has the potential to double or triple our visitors."
While it may take a few years for Mr Malone's vision to turn into reality, the Ecker Hill students are already happy with their success. "If just one child, who didn't have a uniform before, has one now, we've changed their lives. And we feel pretty good about that," said student Ava Brown.
Note: In case you didn't get it, this site is all satire. It's not real. Public figure names may be used but their quotes are not real. Use of other names similar to actual people is coincidence. See FAQ.