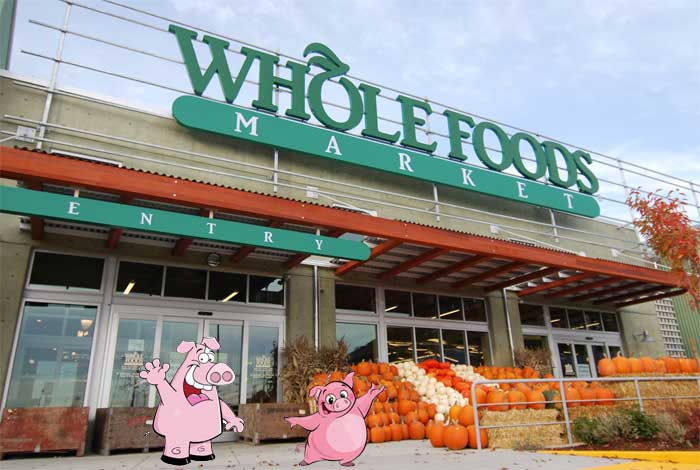 For months speculation brewed about the identity of the mystery developer of the new Whole Foods development on Kilby road. That speculation is over. Park City Weekly has confirmed that the new developer is none other than Three Little Pigs Inc. You may recognize the firm from previous publicized legal disputes, such as Big Bad Wolf vs Three Little Pigs and The People vs Straw House LLC  (Fifer Pig's affordable housing project).
The Whole Foods development was approved last year by the Snyderville Basin Planning Commission, amid controversy over traffic impacts along Kilby road. Construction began earlier this year. For months, the public speculated on who was going to develop the high profile project. Yet, as the buildings seemingly sprung up over night, the development's design immediately gave away the developer.
The development uses the tail-tale Three Little Pig's design. The main Whole Foods building was designed by Practical Pig and is built of steel and concrete. During Planning Commission questioning, Practical Pig commented that the Three Little Pigs only use the best materials and design for their customers. He said, "we have to build these right because you never know when a strong wind may come up Parley's Canyon and blow your building down."
The secondary building, housing retail stores and affordable housing, was designed by Fiddler Pig. It is made of wood. In a recent interview with Park City Weekly, Fiddler Pig defended his use of wood.He stated, "I'm sure everyone would love a building made of concrete and steel, but this is going to be affordable housing and empty store-fronts. How long do you think this has to last? Pay-day, that's how long."
We attempted to reach out to the Three Little Pig's third partner, Fifer Pig; however, he did not immediately return calls. His administrative assistant said he was onsite on his project at the new Skullcandy building, and wasn't sure when he would be available.
"This is an exciting time for Park City. Rarely does one get all Three Little Pigs partners working on projects in Park City. Your town is so lucky," commented Practical Pig.
Note: In case you didn't get it, this site is all satire. It's not real . Public figure names may be used but their quotes are not real. Use of other names similar to actual people is coincidence. See FAQ.